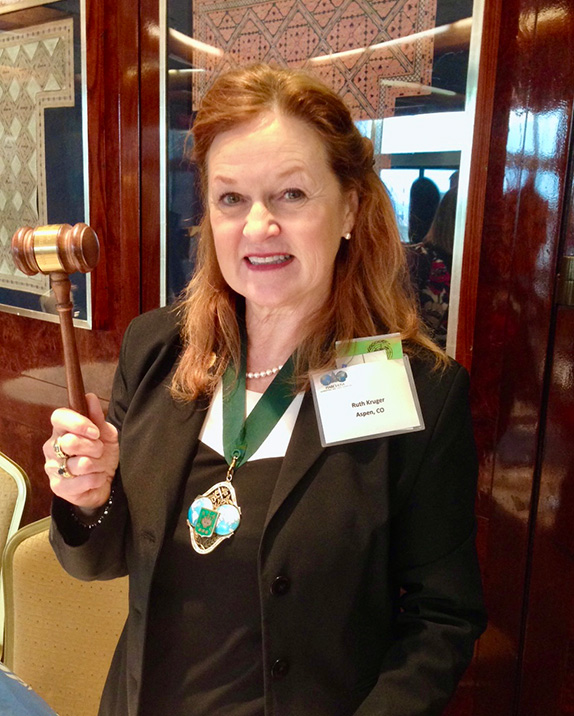 Ruth Kruger has devoted her career to becoming the most informed, educated and well-rounded international real estate broker she can be. She followed this passion by completing many national real estate courses in the United States and all internationally recognized courses but also by investing the time to serve these organizations as well.
The most well-respected of these global organizations is FIABCI, The International Real Estate Federation. After completing the complete education curriculum on international residential and commercial real estate Ruth became an active participant in the federation where her hard work and dedication were recognized and rewarded by being voted president of the U.S. Chapter of FIABCI and awarded a place on the international board.
This period as president of the U.S. Chapter proved to be one of the most informative, educational and fun chapters of Ruth's life as a real estate broker. During this time period, she was able to travel the world, sometimes to countries that were difficult or not completely safe for U.S. residents at the time, and had professional experiences that would have never been available to her without her title. These travels included going to countries with somewhat uneasy relations with the U.S. including Russia three times and China twice, including international board meetings in St. Petersburgh. During these travels she learned the intimate details of conducting real estate transactions across international borders as well as the customs of personal interaction between brokers and clients in these foreign lands. These customs are surprisingly different than in the United States and knowing how the intimacies of these formalities can be the difference between closing or losing an international contract.
Other highlights of this period included a visit to Singapore where the FIABCI ambassadors were given private tours through the eight levels of the government infrastructure and educated on how this socialist system operated its housing system. This is just one of many examples of where Ruth learned that every country has its own rules for buying and selling real estate that must be learned firsthand. They also have their own social norms that must be adhered to successfully broker a deal and avoid insulting local business people, especially in Asian countries.
In the process of these meetings and tours in addition to an invaluable education, Ruth was able to make connections with some of the most influential and successful real estate developers in the world. Thanks to being hosted by the countries she was visiting as an honored guest and traveling with an entourage she was able to also meet government leaders and other people of significance around the globe.
Not only was this an educational experience with expanding business opportunities but of great personal reward. Opportunities to see the premier prima donna ballerina of the world (circa 2012) are not common and one Ruth feels incredibly lucky to have experienced. Attending a  ballet in the Hermitage Theater Museum St Petersburgh is an event of dreams for an art and culture lover and one she will never forget. These and many other like it have given Ruth such a wide range of experiences that some have referred to her as "the most interesting woman in the room".
If you are looking to broker an international real estate transaction Ruth Kruger could just be the asset you need to make it happen. She considers the most valuable benefit of her time as the U.S. Chapter president and International board member was making connections with the most powerful people in real estate markets from most major countries in the world. Let her put her cultural and transactional knowledge to work for you so you can achieve your international real estate goals efficiently, politely, and successfully.