FIABCI-USA Unites in Denver
FIABCI-USA 2023 Grand Prix & Fall Membership Meeting
Last weekend, FIABCI-USA united in Denver for an unforgettable annual Grand Prix Awards Dinner & Fall Membership Meeting. The buzz was electrifying as they honored the best in the industry and discussed the future of real estate.
Parties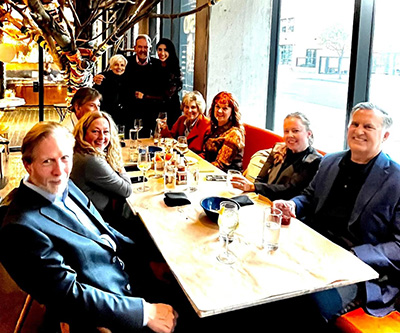 Global Property Pros began the weekend with a fantastic Friday evening get-together for early arrivals hosted by Hugh Gilliam. This certainly set the stage for insightful discussions and valuable networking opportunities.
Speakers
FIABCI-USA hosted Dr. Mark Lee Levine and Alie Jules as Symposium guest speakers. Dr. Levine, a distinguished Professor at the Burns School of Real Estate and Construction Management, delved into the captivating world of AI and its applications in Driverless Vehicles (DV). The impact of AI-powered DV on various sectors and our society was truly eye-opening!
We were privileged to have Alie Jules, CEO of Saana, an AI consulting company, as a speaker. Her expertise in generative AI and extensive background in real estate brought us valuable insights into the future of AI and its real-world applications. Alie shared best practices and practical examples, empowering us with actionable knowledge.
Awards
And the Highlight of the evening ? Babcock Ranch, winner of the 2023 FIABCI-USA Grand Prix Award. Babcock Ranch is America's first solar-powered town built to live harmoniously with nature. Accepting the award on behalf of Babcock Ranch was member Della Booth of Punta Gorda, Florida, who will present the award to Sydney Kitson, Chairman and CEO of Kitson & Partners, the developers of Babcock Ranch, in Florida. Babcock Ranch is now qualified to enter the FIABCI World Prix d'Excellence awards in Singapore, where we wish them much success!
Ruth Kruger International Real Estate Broker
Kruger and Company